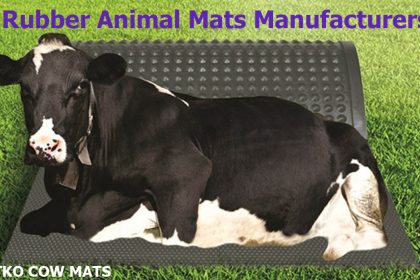 Rubber Animal Mats Manufacturers
Rubber animal mats are a type of mattress produced with superior technology that protects animals from cold and prevents illness in winter. As you know, animal beds are very important for animal health. Rubber animal beds are especially used in cow barns. Cows are very sensitive animals. People who make a living by looking and selling cows should, therefore, attach great importance to these beds.
Let's explain this to you with an example. Here, we would like to briefly mention a piece of information that you will learn in detail from our article about the pregnancy process of cows. Cows should be kept in a dry and clean place to give birth to healthy calves during pregnancy. If you lay your cow on the cold ground in a dirty and neglected barn, it will get sick after a while.
Besides, the udders of the cows are very sensitive and if they are crushed under their large size, they become inflamed and germ. As a result, the cow's milk efficiency decreases. You can prevent this disease by disconnecting cows from the cold ground. You can do this only with rubber bearings.
Thanks to the rubber animal mats, cows lie on a dry and soft ground. In this way, your cows are not affected by the cold and do not get any disease.
Also, since cows are heavy animals, they can hurt themselves when they lie on their legs. The way to save cows from this situation is rubber animal beds. These beds, which reduce the load on the cows' feet with their soft structure, help your cows to live healthier for many years.
Besides, pregnant cows should sleep on rubber cows. Cows must lie on soft ground for a healthy calf birth. After the birth, the calf should stay in the calf nest, which is specially produced for itself, and this ensures a healthy animal breeding.
Hatko between the rubber bedding manufacturers as we are located in the leading position in Turkey. Thanks to the long-lasting, durable rubber animal beds we produce with superior technology, you can have happy cows. Happy cows will give you more efficiency and you will be profitable in all conditions.
Animal Bed Production and Sales
If you are looking for a rubber cow mats manufacturer, Hatko Cow Mats is the right address for you. Our company, which is an expert in the production and sale of animal beds, produces cow beds of different sizes for you. Cow bed prices vary by size. You can get detailed information by contacting us for cow bed prices.
If you want to have quality and long-lasting cow beds and make your cows happy, just contact us. Our production and distribution network are quite wide. We are constantly expanding our production and distribution network, both at home and abroad.
Do not forget that the address of quality production is Hatko Rubber. We manufacture animal beds in our production facilities and do not use imported products. You can protect your animals with Turkish-made rubber animal mats.
Thanks to the rubber floor coverings, your stables will be cleaner. Because of the nature of the rubber material, it is very easy to clean. In this way, you will pay fewer labor costs. Besides, our water usage will be less as it is easy to clean. With the investment you will make, you will find a great way to protect both your animals and your budget.
Barn Equipment Manufacturer
If you are looking for barn equipment, Hatko Cow Mats supports you. Cow scratching brushes are one of the most important stable equipment. Cows may have trouble scratching themselves because their size is large. That's why they need scratching brushes. You will have more peaceful cows with an animal spoon. So, the dirt of your cows will be cleaned thanks to their scratch and they will be more peaceful.
These brush machines, which purify your cows' body from all dirt and dust, have the feature of relaxing your cows. It is very useful for animal development.
If you are wondering where to buy animal brushing machines, the answer is quite simple. Hatko is always at your service. So, we are in a process where cleaning is very important. Please do what we need to protect ourselves and our animals from germs and viruses.
For more information, please contact us.